Vichy, a home to art deco
From the 17th century through to the 19th, it was very much the favoured resort for major personalities of the times. Today many celebrities enjoy its numerous attractions! Notably sports personalities who are particularly seduced by the sports facilities of Vichy. All these prestigious visitors have contributed to its past and present renown. Adopt the Vichyssois way of life!
VICHY CÉLESTINS SPA HOTEL, between heritage and modernity
Since 1853, the Compagnie de Vichy has managed the thermal resort and contributed in promoting the tourist and cultural aspects of the town by sponsoring numerous infrastructures such as the opera house, parks and golf course. As of the 1880s, hydrotherapeutic techniques enhanced the thermal industry enabling the service, aided by the medical society of Vichy, to elaborate an apparatus dedicated to "taking the waters". In 1896, the famous "Original" Four-handed Vichy Shower was invented, and gave birth to the much-awaited savoir-faire and renown of the Compagnie de Vichy. Since then, hydro-therapeutic treatments, nutrition and sport, ingenuously combined, have placed Vichy at the fore in Thermal Spas.
At the beginning of the 1990s, Vichy improved its thermal facilities with the building of the Thermes des Dômes, located between two "minarets", of traditional character, and the highly contemporary Vichy Spa Hotel Les Célestins, which affords a modern note. Built on its rich past experience, thermal medicine in Vichy was able to respond to today's demands and those of the future. Four centuries of history and many awards - including
the label Spa-A awarded in August 2013, and third best "Spa Destination" in Europe at the World Spa Awards - encourage us to offer the best.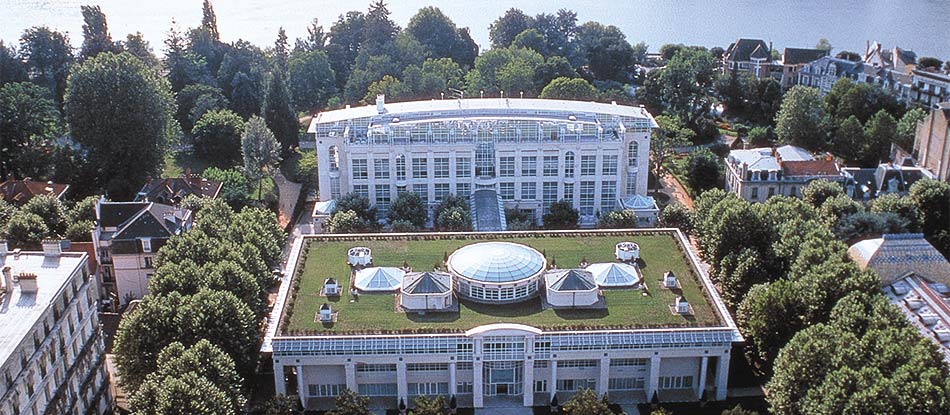 With force and vitality, Vichy welcomes high level sports persons, teams, professionals, international players of football, basket ball, the American swimming team, the Russian Olympic synchronized swimming team, the French fencing team, and many others! Unique in Europe, covering a space of 120 hectares on the edge of the Allier Lake, the multi-sport centre offers state-of-the-art dream infrastructures – a 100 hectare lake, an ultramodern aquatic stadium, two 18-hole golf courses, including the highly renowned Sporting Club de Vichy, opened on Ist May 1908, that welcomes players from all over the world, such as the Queen of Yugoslavia, Aga Khan, the Emperor of Annam – just metres from the centre of Vichy. Without a doubt, Vichy is the place for all your sporting feats!